If you take care of your clothing right they will last longer. Both you and your environment will gain on that. Here are some tips from us on how to care for them properly. Generally, we tend to wash our clothes often. Sometimes, maybe a little too often. Many times it may be enough to air out a garment for it to be fresh again, and occasionally you can brush it off with a clothes brush.

In general, we encourage our customers to always follow the washing instructions that come with the garments. We also recommend that you don't wash your clothes too often. This both saves the environment and gives your clothes a longer life. If you are unsure or have questions, please feel free to email or call us.
Various garments, materials and care of them
Jeans / denim - already "washed" (worn) jeans are washed after you pervert them in and out to the wrong side and have buttoned the fly. When they are wet you may then pull the legs so that the they stay in length. The trousers should be hung out to dry from the waist down, after you have turned them back to normal position ie right side. Avoid tumble dry.
Note that already ripped jeans has a reduced life and that they do not last as long as a thick unwashed denim, although they are sometimes more expensive. Holes and the like can cause strain on the pant fails.
Raw Denim - that is totally unwashed jeans is a living material and will become only better and prettier the more you use them. If you wait to wash them in the washing machine you will get your pants worn in different shapes depending on how you used them. Ventilate your jeans often and brush off any dirt. Wipe away stains with a damp cloth (do not rub). Fold on different places in the foot to avoid getting holes in the garment. After about a half year of use, you will see tensions reach. Wash them in 60 degrees with detergent without bleach if you want clear abrasion marks. Colder wash gives less marked friction and you will retain more color in the fabric and will have more shade of blue than before washing. Remember that the unwashed jeans can dry trap on light furniture, upholstery, underwear and shoes.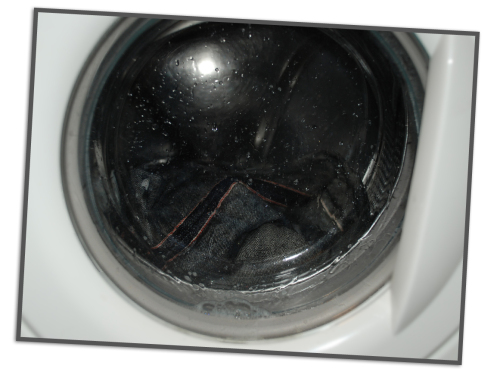 Wool - Hang out and ventilate the garment. Wool is an amazing natural material, and will cleanse itself by airing. The best result is achieved during humid weather and hang it under a roof. If you must wash it, do it in 30 degrees or also known as cold wash (wool symbol on the machine). Be gentle with centrifugation.
Cotton - resistant material, soft and comfortable that come in all garments. Cotton can handle 60 degrees and sometimes up to 90 degree wash. But read the garment's washing information first. It is not always necessary to wash at 60 degrees if the garment is not very dirty. 40 degrees is mosly enough. If the garment does is not prewashed it often do shrink.
Silk / silk - Treat this as a wool garment. Silk Garments should be washed frequently or not at all. The best way is to hang it out and ventilate after use. If machine washing is recommended, it is a mild programme (short) of 30 or 40 degrees with a liquid detergent that apply. Avoid fabric softener / conditioner! Occasionally requires dry cleaning
Linen - Wash at 30 degrees or according to the washing instructions (sometimes tolerate up to 60 degrees). Can shrink and / or lose it's color brilliance if washed too hot. Often goes to emphasize the pieces shrunk, with hot iron. Iron on wrong side or with ironing towel. Wash with a short and mild washing programme. Avoid spinning! Do not mix different colors in the laundry with linen.
Leather / Leather – Seldom needs to be washed. Use a damp cloth to wipe away stains. Difficult stains require washing of leather specialist. After cleaning the skin greased with fat leather. Use plenty of fat and allow to be over night and wipe off excess oil with a dry cloth. Greasing is not for nubuck and suede that is instead sprayed. NOTE: Suede and nubuck cannot stand water!
Viscose - Natural materials that can easily be washed. Between 30 - 60 degrees
Man-made fibers, polyester - Durable materials! Can easily be washed at 60 degrees. If the garment is not very dirty it works perfect with 40 degrees.
Nylon - No problem to wash this material at 40 degrees. 60 degrees is usually ok too.