This is Yokionos very own measuring guide to show all you customers how we measure the different products in our online store. The easiest way for you to be sure that the garment you wish to order will really fit you, is to choose a similar garment from your wardrobe that really fit you well. Then just take the measures and compare with the measures of our product. Should you have any questions about a specific fit, size or product please feel free to contact us at any time by e-mail or phone.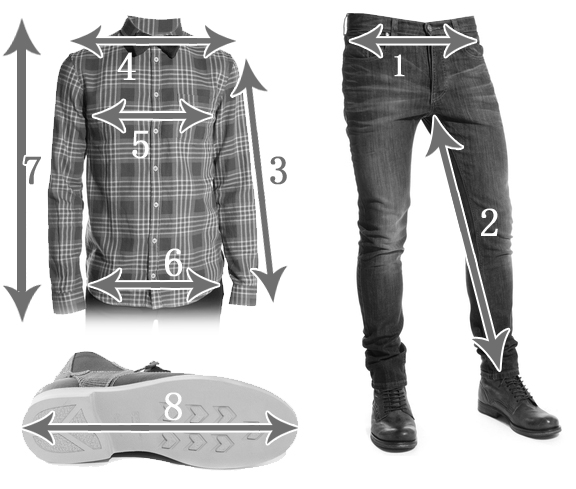 1. Waist
The width of the garment x 2.
2. Leg
The measure from the crotch down to the end of the leg..
3. Sleeve
The measure from the armpit until the end of the sleeve..
4. Shoulder
The width from shoulder to shoulder..
5. Chest
The width from armpit to armpit x 2.
6. Bottom
The with from side to side in the lowest part of the garment x 2.
7. Length
The length from the shoulder down to the lower part.
8. Length (outersole)
The length of the outersole measured from heel to toe.